Retained Earnings Formula And Calculation
Retained earnings are the accumulated net earnings of a business's profits, after accounting for dividends or other distributions paid to investors. Companies use profits generated not only to pay dividends to shareholders but also to grow the business. The beginning retained earnings, and current retained earnings can represent a growth pattern from one year to the next. Dividends paid are the payments to the owner of your company's stocks. Dividends paid are decided by the board of directors and approved by shareholders.
Retained Earnings are the portion of a business's profits that are not given out as dividends to shareholders but instead reserved for reinvestment back into the business. These funds are normally used for working capital and fixed asset purchases or allotted for paying of debt obligations.
After dividends are paid to investors, the leftover net profit is considered to be retained earnings for the reporting year. This amount is then added to the retained earnings from the previous period. Generally, when a company generates positive earnings (profits), business management will have some options to utilize this amount. But they can also decide to keep the surplus to reinvest back to the firm for growth purposes. Simply put, retained earnings represent cumulative earnings after the business has paid all expenses and distribution to its investors.
Is Retained earnings a cash?
It is important to understand that retained earnings do not represent surplus cash or cash left over after the payment of dividends. Rather, retained earnings demonstrate what a company did with its profits; they are the amount of profit the company has reinvested in the business since its inception.
In order to grow, a business needs to constantly invest in itself and in new products. If you are a shareholder, you should expect to see some retained earnings on the balance sheet. This is normal and needed if a business wants to maintain operations, increase sales, grow as an enterprise, or expand services. If a company wisely spends its retained earnings, the stock will slowly increase.
The earnings of a company can be either positive or negative profits. If the company has retained positive earnings, this means that it has a surplus of income that assets = liabilities + equity can be used to reinvest in itself. Negative profit means that the company has amassed a deficit and is owes more money in debt than what the business has earned.
The total balance of retained earnings is affecting by two main important elements such as net income and dividend payment. https://www.havenofinah.com/what-is-deferred-revenue/ If the entity makes the operating profit from year to year, then accumulated earning will increase subsequently.
Conversely, if the organization experiences a profit, debit the income account and credit the retained earnings account. At the end of the accounting period when income and expenses are tallied up, if the business suffers a loss, this amount is transferred to retained earnings. This shortfall in retained earnings has an adverse affect on owner's equity by reducing what is actually owned. The basic accounting equation for a business is assets equal liabilities plus the owner's equity; simply turned around, this means the owner's equity equals assets minus liabilities.
What Retained Earnings Tells You
Often this profit is paid out to shareholders, but it can also be re-invested back into the company for growth purposes. The ratio of how much money a company pays in dividend vs. how retained earnings much it decides to keep in retained earnings is of importance to investors. For example, investors who value dividends would obviously like to see a high dividend payout ratio.
Limitations Of Retained Earnings
A high retained earnings figure gives the company a cushion in case business turns sour.
This is usually the case with fast growing companies that need the money to grow.
It also gives the company flexibility to do other things like pay off debt.
Both retained earnings and revenue are important aspects of determining a company's overall financial health. However, these two types of income are different and are used to evaluate different components of a business's finances. Since the two sides of the balance what are retained earnings sheet must be equal at all times, a profit and the resulting growth in assets must occur simultaneously with a growth on the other side. For example, the entity's balance sheet as of 31 December 2017 shows that beginning retained earnings amounts to USD 120,000.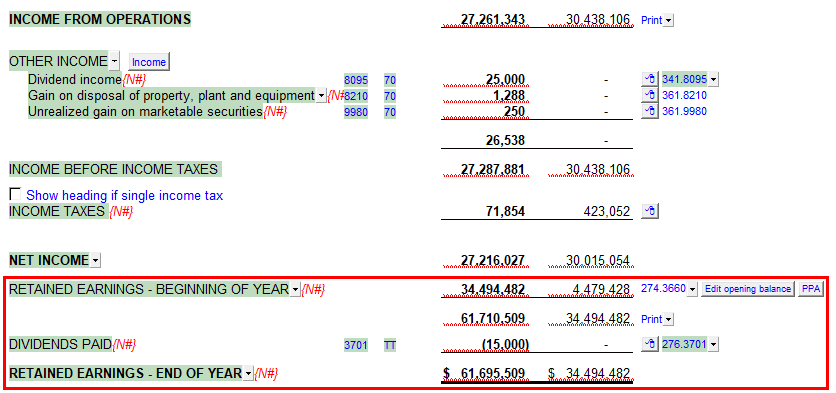 A corporation, by definition, has shareholders who have partial ownership of a company by investing their money in it. Those shareholders claim a part of the company's net income, which is paid out as either stock or cash dividends. It may also elect to use retained earnings to pay off debt, rather than to pay dividends. Another possibility is that retained earnings may be held in reserve in expectation of future losses, such as from the sale of a subsidiary or the expected outcome of a lawsuit.
Of course, even the company cannot call its earnings "cash." Before arriving at cash flow, a company must separate from its profits adjustments like depreciation and capital expenditures. The shareholder thus stands another step away from actually getting cash from earnings. In fact, as my analysis shows, shareowners can become gradually impoverished as a result of holding stock in companies that regularly report healthy profits. If we remove the rose-colored glasses through which we often view our corporate financing system, we discover that the company's health—instead of shareholders' wealth—has become the end rather than the means.
Is Dividend Payment Shown In Shareholder's Equity?
Since the entity makes operating profits, a board of director's approval the dividend out to shareholders amount USD 50,000. It also shows the beginning balance of earning, dividend payments, capital injection and the ending balance of earnings.
Thus, credits increase the account and debits decrease the account balance. When I was first learning accounting, it took me a little while to understand exactly what the RE account was. It's just an account where the net income or net loss for each year is stored eternally, so it's just the total net income or loss the corporation has achieved in its existence. Any event that impacts a business's income will, in turn, affect retained earnings. Retained earnings increase when a business receives income, whether through profits gained by providing customers a service or a product or through capital stock investments.
What is the difference between net income and retained earnings?
This video discusses the difference between Retained Earnings and Net Income. Net Income is the profit that a company earned over a set period of time, such as a month, quarter, or year. Retained Earnings is the accumulated profits of the company since its inception, minus any dividends distributed.
How The Dividend Yield And Dividend Payout Ratio Differ
Unlike a cash dividend, a stock dividend does not decrease an asset. Instead, equity is simply moved from retained earnings to contributed capital. Net profits or net losses are prepaid expenses rolled into the retained earnings account when closing entries are made at the end of the accounting cycle. On January 1, 2013, retained earnings is $45,000 ($50,000 – $5,000).